Home » Tutoring » Summer Tutoring
Virginia Summer Tutoring Programs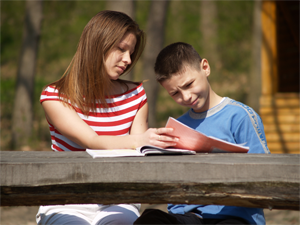 Summer Tutoring Advantages
Students learn at a comfortable pace with materials that they find interesting
No competition or distractions exist as during the school year
The schedule is flexible, allowing the child time for vacations, camps, and other breaks
Parents may have increased opportunities to participate in their child's learning
The student gets a jump start on school in the fall, or can master a difficult subject or skill from the previous year.
Both you and your child are sure to appreciate the many benefits of this summer tutoring experience!
Our Summer School Programs
ADULT ESL FOR THE WORKPLACE
Practice exercises in clear pronunciation, learn the correct use of common idioms and expressions, enhance your fluency, and build your vocabulary.
STUDY SKILLS
Learn how to study effectively, get organized, and save time. The practice of effective study skills helps determine your academic success.
MATH PREPARATION
Math preparation or review for elementary and high school math subjects, including basic math, pre-algebra, algebra I, geometry, pre-calculus, and advanced math topics.
READING PREPARATION
Reading enrichment for any age student. For younger students, reading games and activities make learning extra fun!
SCIENCE PREPARATION
Science preparation or review for elementary and high school science subjects, including basic science and biology.
SPECIAL NEEDS
Our special needs tutor provides focused, hands-on instruction for students with learning disabilities, ADHD, and selective mutism.
ENGLISH for non-native English speakers (ESL/ELL)
Guided practice in reading, speaking, and writing from beginners to advanced. All ages and abilities.
COMPUTER SKILLS
Learn and practice using Word, Excel, PowerPoint, and Publisher, as well as Internet and online database search techniques.
COMPUTER PROGRAMMING
Learn and practice using C++, PHP, Scheme, Java, and HTML, and/or receive tutoring for computer science classes.
CIVIL SERVICE Test Prep
Brush up on skills in math, reading comprehension, and problem-solving to score high on exams in firefighting, licensed nursing, and other civil service occupations.
SUMMER CLASS SUPPORT
Taking summer classes? Summer classes move at a much faster pace than normal, and you will be guided through everything at your own pace.
ACT/SAT/GED Test Prep
Tips and strategies acquaint you with standardized test format. Learn and practice specific test-taking skills, and increase your concentration in order to improve your score.
GERMAN – Elementary level German tutoring at the basic level. Practice reading, writing, translation, and pronunciation.
SPANISH – All levels provided by a fluent Spanish speaker. Practice reading, writing, translation, and pronunciation.
If you would like more information about our Summer Tutoring Programs, or any other services offered by our Northern Virginia Tutor And Tutoring Services, please contact us via the form below.